It was xQc Airs Fist Gambling Stream on Kick Since Signing $100 Million Deal. Within minutes, xQc won half a million dollars playing the slot machine Razor Returns. His community is suspicious.
xQc has conducted his first gambling stream on Kick after announcing his astonishing $100 million deal with the platform backed by crypto casino Stake. An online casino that is handing out multi-million dollar contracts as if they are the Saudi Pro League.
This follows several months of intense controversy centring around gambling and Kick. At that time, Felix (xQc's real name) was engaged in conflicts with other content producers, most notably Pokimane and HasanAbi. They voiced their concerns about the platform's affiliation with the crypto gambling site Stake.
Criticism of his move to Kick was pretty straightforward. Many believed that he was making the move purely for money, with the agreement that he will partake in gambling streams. During these gambling streams, it is not uncommon for content creators to win millions, making the act of gambling appear to be a legitimate way of making money.
Upon xQc's return to streaming gambling content, a venture he had refrained from for an extended period, the streaming community had plenty of opinions to share. Many people took to X (Twitter) to say that Pokimane was right all along and that the contract must have included some obligation to gamble.
xQc's Decision to Start Streaming on Kick
Hailing from Canada, this prominent online personality was among the most prolific Twitch streamers. He caused a significant stir within the industry when he inked an agreement with their emerging competitor, Kick, in June 2023.
While numerous individuals extended their congratulations for securing such a lucrative deal, a portion of his fellow streamers harbored reservations, particularly his Canadian counterpart, Imane "Pokimane." She openly criticized his affiliation with the platform.
To provide some background, Imane and a few other Twitch streamers, including HasanAbi and Mizkif, played a pivotal role in initiating an anti-gambling movement by content creators. This movement ultimately led to the Amazon-owned streaming platform imposing substantial limitations on gambling content on the site in October 2022.
Subsequent to these developments, prominent gambling-focused streamers such as Trainwreckstv, Adin Ross, and Roshtein shifted their streaming activities to alternative platforms like Kick.
For those who have been living under a streamer-free rock, Kick, the platform, has been the focal point of a lot of controversy due to its connection to gambling and its reputation of picking up popular streamers who have recently been cancelled.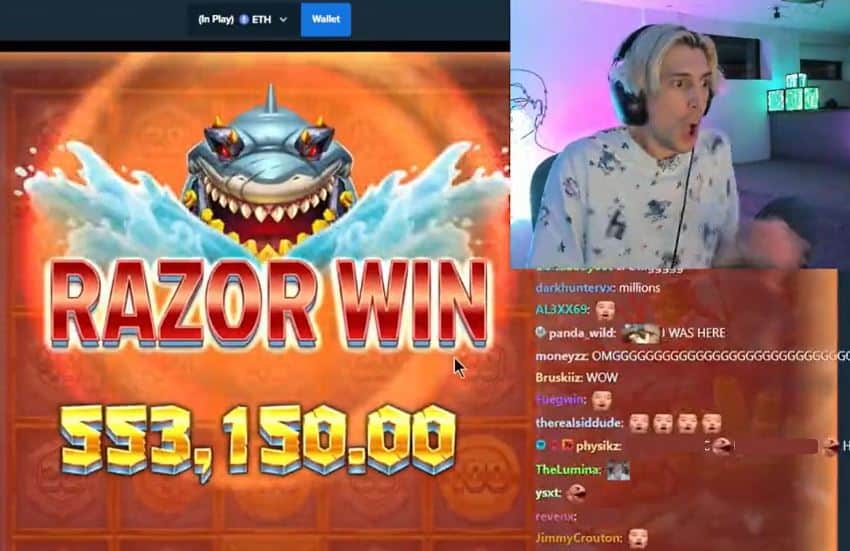 This connection arises from the fact that it was established by the very individuals who conceived the contentious crypto-gambling site, Stake.
Many have raised allegations suggesting that the platform could be serving as a facade for gambling-oriented streams.
In other words, it is used to encourage those who are watching to head over to their casino and gamble. Considering the average age of the people who tune in to watch Kick streamers, this is disturbing.
xQc won half a million dollars in Stake-Sponsored Gambling Livestream!
While gambling online for the first time in months, xQc managed to bag over $500,000 in winnings playing the second game of the Razor Shark series. Great, you might think. Well, cynicism was in the air for all the reasons we mentioned above.
Many Redditors and X users were sarcastically congratulating xQc on his very real win. Of course, there is zero proof to such accusations, and it could also be legitimate, but to win such a staggering amount on his first kick gambling stream has left his fans divided.
One sarcastically wrote that it takes 10,000 people to gamble $10k to reach $100 million. Implying that Stake will make their money back due to the new people brought to the platform by xQc's influence. What do you all think, guys?