The multi-year partnership between Stake.com and Alfa Romeo F1 is historic and will be viewed as groundbreaking.
This is the biggest piece of news for the crypto industry since Stake.com is the leading online crypto casino. The online casino are also currently in partnership with Premier League football team Everton FC.
Stake.com have amassed a very impressive portfolio of sponsorship deals recently, which include deals with the UFC, rapper and music producer Drake, as well as Argentinian and Man city God Sergio Aguero.
The relationship between formula one and sponsors is often much discussed due to the sheer amount of money involved and the countless controversy that has been stirred through the many years of competition.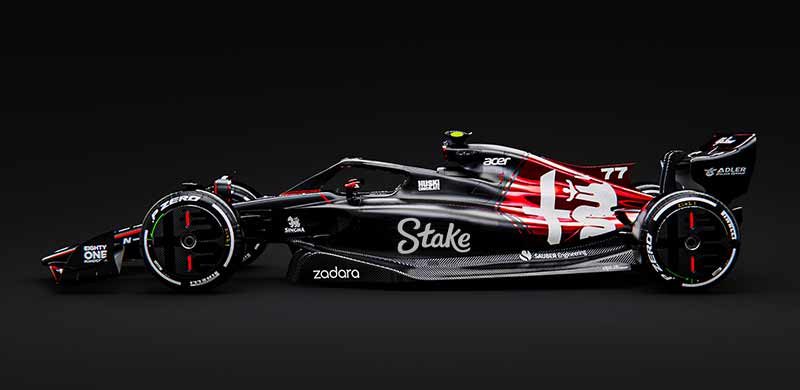 Sauber Group managing director and Team Representative Alessandro Alunni Bravi had this to say about the new partnership.
"We welcome Stake as a new co-title partner for the team in what represents the start of a new era for us both, Formula One has seen a huge increase in interest over the last few years, and the arrival of brands such as Stake is representative of the massive exposure our sport can offer."
Bijan Tehrani, the co-founder of Stake, spoke of his delight with this partnership.
"We could not be more thrilled to join a legendary F1 team that shares with us the same ambitions of growth and success. Alfa Romeo F1 Team Stake will expand our opportunities for fan engagement through brand integration and activation.
We are fully committed to enhancing race weekends by creating unique experiences for all Alfa Romeo F1 Team Stake fans, growing audience engagement in the digital arena."
$100 Million Contract!
The deal is reported to be worth a whopping $100 million over the duration of three years. Some have noted, though, that during these press releases, there was not one mention of the word crypto. This does make one suspect that there was an agreement in place not to refer to this considerable aspect of their business model.
Another story of interest is that the company are also currently being sued for $400 million. Christopher Freeman claims he was misled into not being part of the formation of Stake.com and claims he should have a 20% stake in the company. His belief is based on his claims that they had agreed to form a casino together with the same framework.
The casino has also been criticised for running a betting company in Australia. Many thought they were breaking the law when this story first broke, but since they are not providing their services to Australians, they have essentially found a loophole.
The Appeal of Formula 1 For Sponsors
Formula 1 is a truly unique sport, as the season takes place in 23 countries. This makes the sport incredibly appealing for sponsors with a global reach, as their name will be associated with these races around the globe. Due to the nature of Crypto gaming, this is fantastic since the potential audience for Stake.com can, in theory, be anyone.
Over the years, there has been a tremendous focus on the ethics of sponsorship within the sport, but the truth stands that it is a very difficult sport to run without vast amounts of money being pumped into it. Unlike other sporting ventures, such as the Premier League, TV money is not enough to keep the sport alive by itself.
Many argue that betting companies shouldn't be permitted or, at the very least, encouraged to sponsor such sports within the industry. It would certainly be interesting to see what the reaction would be to a crypto casino site now being involved in the sport. The formula 1 season starts in March in Bahrain.