In what is one of the highest wins ever recorded at Stake Casino, a slots player has hit the top prize on one of the most popular slots worldwide.
In their latest monthly report, Stake Casino celebrated the highest casino win of the month – $12.500.000, or the crypto equivalent of that.
This player went into the bonus round of ten free spins with $1000 bets – apparently a high roller who has been playing many times before.
While almost nothing happened on the first five spins, in no 6 he found the "duel" symbol on each of the five reels, and then also found the higher multiplier option on every single reel.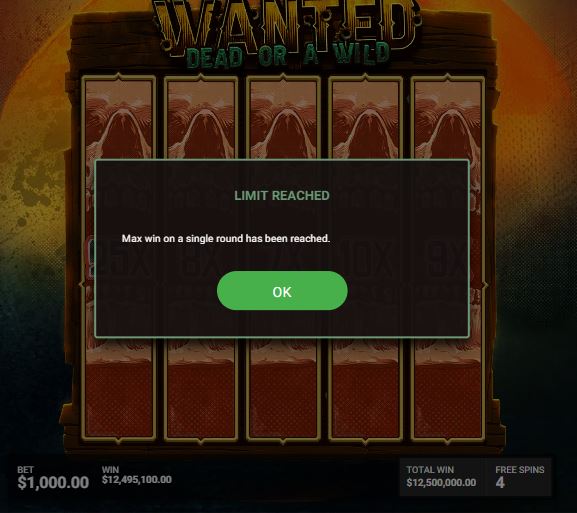 If you don't know, the duel symbol on "Wanted dead or a wild" gives you a 50/50 chance to hit a large or a small multiplier. Getting the higher one five times in a row is a rare feat.
This gave the player a multiplier of 12.500 on the base bet, which is the highest you can get. This win basically broke the bank, because the maximum win in a single round was reached and thus the bonus round was suspended.
You can watch the full video of this incredible win here.
Stake.com
Stake.com is one of the most popular crypto casinos in the world right now. Players place around a billion bets on slots every month at stake.com, while sportsbook bettors place about 4 million sports bets during the same time period. Stake.com has recently taken up a sponsorship for Alfa Romeo's Formula 1 team.
Wanted Dead or a Wild
The Wild West slot "Wanted dead or a Wild" is one of the most popular online slots. In fact, it is currently ranking second at Stake.com. This slot was developed by Hacksaw Gaming and has proven to be one of the biggest hits this provider has ever created.