YouTube Boxing only became a thing in 2017, and very few would have envisaged its growth as we see it today.
Social media influencers now engage in professional fights, and some have made mouth-watering profits from them. With each battle, millions have been recorded in pay-per-view purchases, and stadiums have been sold out across the world, including Manchester, Los Angeles, Miami, and London.
How it all Began
In August 2017, Joe Weller and Theo Baker, two popular YouTubers with 5 million and 800 thousand subscribers, respectively, posted a boxing match between them on Weller's channel. The video was posted purely for entertainment, but another Youtuber named KSI, who now has over 26 million subscribers on his youtube channel, commented on the video that he'd fight the winner. The match ended with Weller beating Baker and setting the pace for a new boxing genre.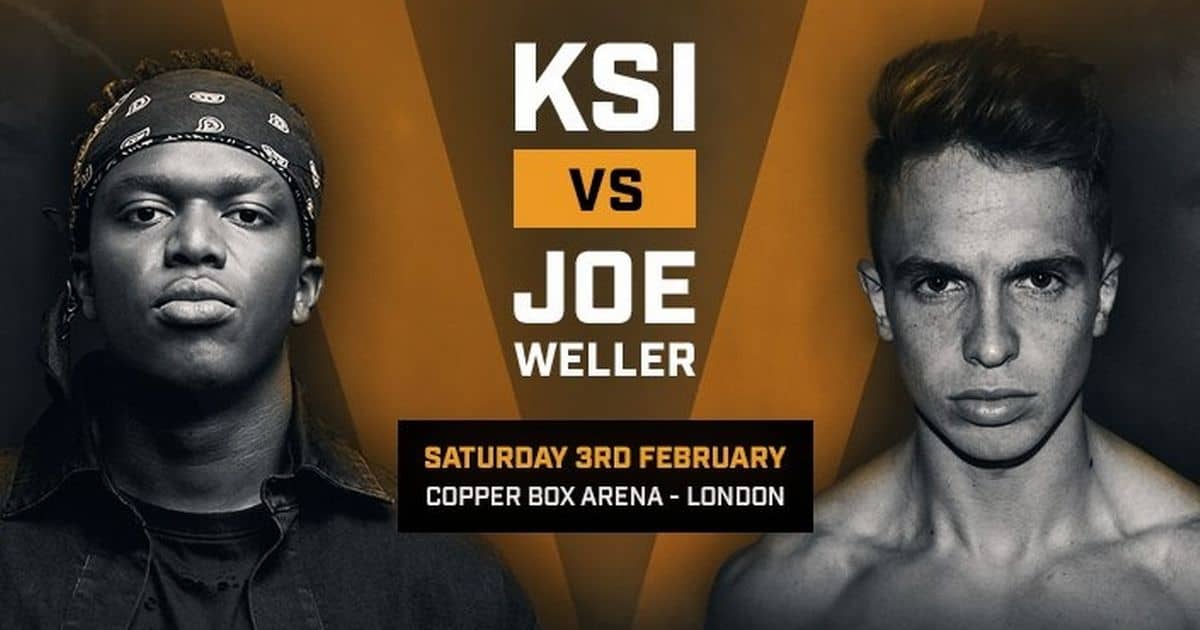 KSI and Joe Weller confirmed their fight for September 2017. They even had to be separated after a physical altercation at an event. Maybe this was all for show, but this didn't stop their fans from lapping it up.
With KSI being trained by professional boxer Viddal Riley at the time and Joe Weller also getting into great shape for the fight, some were surprised by how seriously the two were taking the fight.
The match somehow amassed over 20 million views, and this triggered people into thinking that there was a future in Youtube boxing.
Logan Paul, one of the biggest YouTubers ever and a marketing expert, realized how far this trend could go and created feuds with KSI and boxing legend Floyd Mayweather.
The American would make millions from these fights, and he now has a very successful drink business Prime with ex-foe KSI.
The Continuous Growth of YouTuber Boxing
Since the birth of YouTube boxing videos, the trend has proved incredibly profitable (and entertaining). Also, since the fights between KSI and Logan Paul, several YouTuber boxing fights have taken place. Below are some of the biggest YouTube boxing fights that have occurred in the past few years.
Jake Paul vs Tyron Woodley
Jake Paul vs NBA Star Nate Robinson
Deji vs. Alex Wassabi
AnEsonGib vs. Tayler Holder at YouTubers vs. TikTokers
KSI vs. Luis Alcaraz Pineda
Jake Paul vs Tommy Fury
Mainstream media and boxing promoters have also played a significant role in shaping what started as a fun series of bouts to become legitimate fights in the global boxing scene. To give credit where it is due, both the Paul brothers are very good at selling their fights, and whatever you think of their fighting skills, one can admit that they get themselves into a good physical condition, which is crucial for any boxer.
List of the Most Popular YouTube Boxers
Jake Paul: Since defeating KSI's sibling Deji in his debut match, he has gone on to compete against and triumph over many opponents, including YouTuber AneSonGib, NBA player Nate Robinson, and even former UFC fighters Ben Askren and Tyron Woodley. In the last month, though, he has lost to Tommy Fury, brother of Tyson Fury after years of feuding. Paul has often talked up his chances in the ring and has often been met with ridicule by people in the boxing industry since he has stated on several occasions that he believes he is good enough to challenge for a title.
KSI: People believe KSI started the YouTube boxing craze after his match with Joe Weller. His fight with Logan Paul is also arguably the biggest Youube boxing fight that has occurred to date. It is highly anticipated that he might face Jake Paul in a future match since this will play into the narrative of Jake seeking revenge for his brother's defeat, but KSI might not want to take this on since it has been a long time since he was in the ring and might not want to make the commitment it takes.
Logan Paul: Logan is credited for fighting boxing legend Floyd Mayweather and taking the fight the distance. No one expected him to win this match, of course, but he put on a great show. He has since stepped into the world of the WWE where his charisma and athletic ability fit nicely.
Criticism From Boxing Fans
It understandably irks a lot of fighting fans that YouTubers with no boxing pedigree are able to take over the boxing scene and make millions while only a fine selection of pro boxers are able to witness such paydays.
Although this makes sense, the amount of money you can make from sport is driven by how much pull you have, not always how much talent you have or how fair something might appear. In boxing, this is especially true as the fights that gain the most intrigue are not always fights for prestigious titles.
YouTube boxing is likely to come in and out of popularity because it can only be as successful as the people driving it. The Paul brothers are both athletic and have a personality which polarizes opinion, which can help explain why they are so popular. Other fights will gain nowhere near the amount of traction if there aren't the personalities to sell it.