A new Ingame variety of Ritter Sports' chocolate bar was launched on the 28th of June. The new sort is supposed to give a "natural boost of energy" and is aimed at both professional and amateur gamers. Ritter Sport created this new product in collaboration with the mobile gaming organization OKA Gaming.
Ritter Sports Ingame was launched with quite a bit of fanfare during a ten-hour streaming event via YouTube and Twitch with several gaming influencers including BrawlStars star Jo Jonas. The limited edition chocolate comes in the typical square shape with a bright yellow packaging. This chocolate comes with milk chocolate, yogurt and fruity power-up banana flavors. But, let's be honest, this is not really fitness food.
Ritter Sport Ingame – so, what's in it?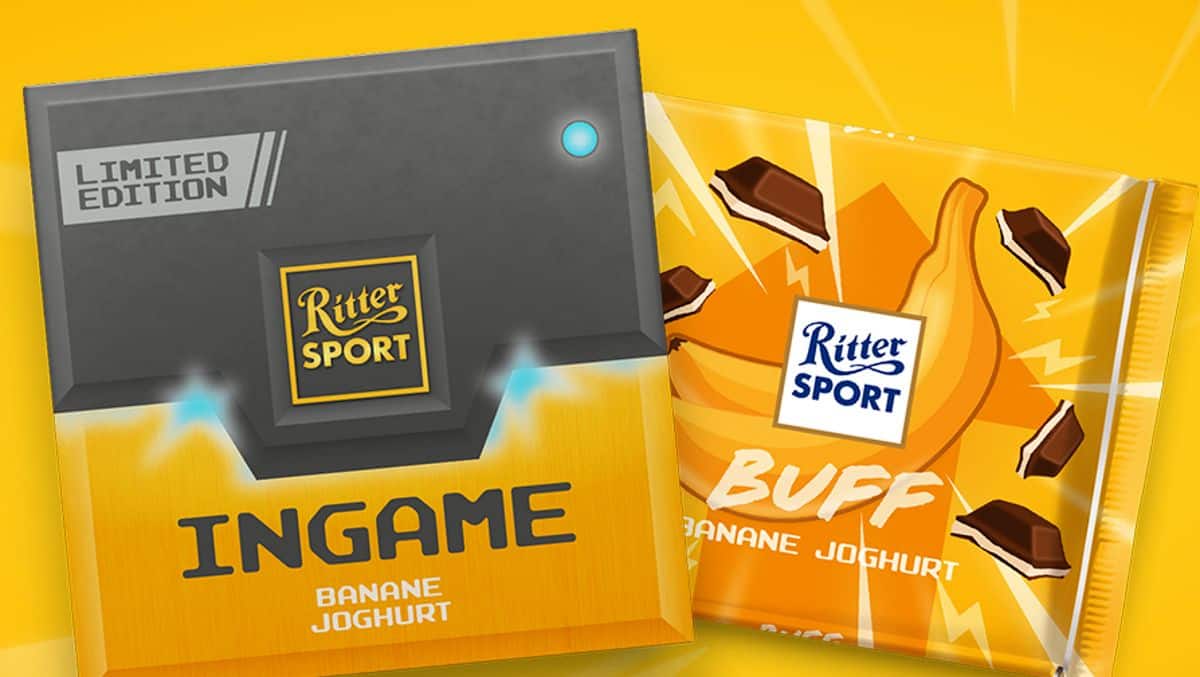 A 100 gram bar has 576 calories, which, in all fairness, will provide the gamer with plenty of energy. The chocolate ingredients are made from sugar, palm oil, cocoa butter, butterfat, skimmed milk yogurt powder, and – according to the packaging – at least 4 grams of banana pulp.
As it has to follow German law, every rule was adhered to and mentioned in the text on the wrapping. There are also some no too serious statements like "Supplies Farmed", "N00bs relegated to the bottom of the ladder" and "High Scores Soared".
The Ingame chocolate from Ritter Sport and OKA Gaming will be available in the two Ritter Sport SchokoWelt stores in Berlin and Waldenbuch. It's also available in the online store for  €2.49. That translates to £2.14 for British gamers who would like to taste the fruity banana flavoured yogurt chocolate square.
A partner in the East casts shadows
There has been a lot of interest in the new Ritter Sports bar which is a relief for the company. Although they are one of the best-known confectionery manufacturers im Germany, Ritter raised some few eyebrows when they continued to deliver and supply products to Russia this year.
The company, which employs approximately 1750 people, says that its market share in Russia is 7% and is of great economic importance for Alfred Ritter GmbH & Co. KG. According to company representatives, other than the home turf Germany, the Russian market is one of the most important.
Apart from a press release in late March and another one just before the launch of the Ingame chocolate, Ritter Sports went silent on social media, probably trying to avoid attention to its continuous trade with the East.
Have Ritter Sports and OKA Gaming done the right thing by launching a fruit-flavoured yogurt chocolate aimed specifically at gamers? As far as marketing is concerned, they sure have!
A niche Market
Last year, Haribo launched a Super Mario sweet in collaboration with Nintendo that was very popular among the fans and an immediate hit in many places. Other big companies to target gamers specifically have been Pringles, McDonald's, Red Bull, Müller Milch and Warsteiner, to name but a few.
With this niche market being targeted by brands, they are sure to create a dedicated and loyal fan base. The collaboration of OKA Gaming and Ritter Sport for this chocolate could not be more perfect. Especially since OKA Gaming specializes in mobile gaming influencers with names such as Jo Jonas, Schlonsti, Johna1331, Shawn Jr, Kitty Syko, Papfi, Mrsredrose, Simjo and Damnchaotix.
These two powerhouses collaborating on the Ingame banana-flavoured yogurt chocolate bar for gamers was simply genius and without a doubt will breathe success into the limited edition chocolate, but will it pass the gamers' taste test? You tell us.